About Bluffton Oyster Company
The Bluffton Oyster Company actually sits on reclaimed land, built up by more than a hundred years of discarded shells from previous shucking operations. The oyster business thrived in early Bluffton and throughout the 1920's, with five different oyster operations in the area. In addition to selling the prized May River oyster meat, shell was sold for road surfacing and chicken scratch. The current concrete block building was built in 1954. Numerous wooden docks and buildings, long since gone, stood on this site before the 1900's. The Bluffton Oyster Company is a typical southern oyster house. The shell stock is unloaded on the docks, washed with fresh water, and then put on the shucking tables. Each picker's oysters are kept separate in order to guarantee they are paid correctly. The shuckers open the oysters into stainless steel cans and when full, the cans are passed through a window that leads into the measuring and packing room. They are then washed in a skimmer and packed into 12 oz., Quarts, and Gallon containers and placed into a refrigerated holding area and kept at 37-34 degrees until delivery.
 Bluffton Oyster Specializes in Fresh Seafood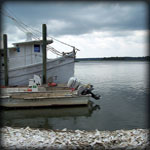 Specializing in fresh local seafood, The Bluffton Oyster Company is known for their fresh, local oysters, clams, mussels, shrimp, scallops, fish filets, soft shell crabs and live blue crabs. In 1999, the Bluffton Oyster Company received an award from the South Carolina Department of Commerce citing it as one of the top 10 oldest and still prosperous companies in the state of South Carolina. All oysters are harvested by hand and shucked by hand. We employ approximately 15 oyster pickers and up to 12 oysters shuckers on a daily basis during season. Most of the workers are over the age of 65 and have been in the business all their lives. The Bluffton Oyster Company building is now owned by Beaufort County and was purchased with monies from the Beaufort County Land Trust. The Building is leased from Beaufort County by Larry and Tina Toomer.
The Bluffton Oyster Company is open Monday through Saturday from 10am until 5pm. *If someone needs to pick up earlier than 10am or later than 5pm we will be happy to make that happen. We rest on Sundays. The Bluffton Oyster Company harvests soft shell crabs during the months of March, April and May. The season can start anytime from mid-March to mid-April 15, and lasts from 2 to 8 weeks, depending on many variable factors.
Shrimp season runs from mid-June until mid-January. The SC Department of Natural Resources determines specific opening and closing dates each year. Oyster, clams, and mussels are in season from mid September to mid-May. Crabbing is done year round, and are almost always available.
We cater for any occasion; from oyster roasts, low country boils, to barbecues and clambakes. Only fresh local products are used for catering, and we can customize a menu to fit your budget and needs!
Larry and Tina Toomer are very active with the South Carolina Seafood and Southern Shrimpers Alliance to promote only local seafood. The Oyster Factory is an FDA and DHEC inspected facility. We work closely with our regulatory agencies on water quality. Our oysters are harvested only from the pristine May River. We lease over 30 acres of oyster beds from the state of South Carolina. Each year thousands of oyster shells are returned to the May River for seeding for future harvesting. The Bluffton Oyster Company has occupied a site longer than any other oyster-shucking house in the state of South Carolina.
Our Family Heritage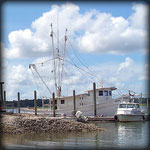 Larry Toomer has followed in his grandfather's as well as his father's footsteps in the oyster industry. Larry began working in oyster factories in his very early teens and has been in the business ever since. Larry and his wife Tina have a made a success of this business by building up a loyal workforce and customer base as well as diversifying into shedding peeler crabs in the spring and shrimping in the spring, summer and fall. Catering is a large part of their operation. They feature oyster roasts, clam bakes, low country boils, crab boils and barbecue.
A Family Tradition that Spans over 100 Years
The Toomer's are another family with a long association with the oyster industry in the Hilton Head-Bluffton area. Simpson V. Toomer came to South Carolina in his early teens to work at a factory on Jenkins Island. He opened his own cannery in the early 1900's on Jarvis Creek and ran it until 1928. He had his own labels and shipped canned oysters as far away as England. From 1928, until his death in 1958, he produced raw shucked oysters at his plant on Jarvis Creek and Buckingham. Three of his four sons got into the shucking business operating canneries on Skull Creek, Jarvis Creek and Buckingham Landing. Loss of labor to resorts on Hilton Head in the middle 80's contributed to the demise of these facilities.
The oyster industry was the most valuable South Carolina fishery from the late 1880's to just after World War II. Oysters were responsible for 45 percent of the value of all South Carolina fisheries in 1902. The industry provided jobs for coastal blacks as harvesters and shuckers when no other employment existed for them. In the mid to late 1800's oysters were a popular food for all classes of people. They were much cheaper than beef, chicken or fish and everyone that could get them ate them.
Simpson V. Toomer, Sr., Larry Toomer's grandfather opened the Hilton Head Packing Company in 1913 on a site that is now occupied by the Crazy Crab Restuarant on Hilton Head. It was an oyster house until 1928 then it became a raw oyster factory that remained in business until 1958. Larry Toomer's father, Frank G. Toomer, his uncle Billy Toomer and another uncle, the late S.V. "Chief" Toomer kept the family business going by opening other seafood factories on the Skull Creek on Hilton Head Island and the Buckingham Landing area.