THE HISTORY OF THE BLUFFTON OYSTER COMPANY


A Family Run Operation Since 1899
The Bluffton Oyster Company actually sits on reclaimed land, built up by more than a hundred years of discarded shells from previous shucking operations. The oyster business thrived in early Bluffton and throughout the 1920's, with five different oyster operations in the area. Now the Bluffton Oyster Company remains the last hand-shucking house in the state of South Carolina.
OYSTER FACTORY HOURS OF OPERATION
Monday through Saturday 9:00A – 5:30P
We accept all major credit cards.
BLUFFTON FARMERS MARKET EVERY THURSDAY
Every Thursday at the Bluffton Farmers Market on Calhoun St. we fry shrimp, oysters and soft shell crabs from 2:00pm-7:00pm. Live Music as well as other fruit and vegetable vendors are on hand as well. Come join us!
WHAT'S BITING? – FRESH LOCAL SHRIMP!
5/22/13 – We now harvesting and selling fresh local shrimp!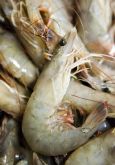 It is now shrimp season. Larry and crew are out netting fresh shrimp every day. They are harvested and brought to our dock where they are displayed for your purchase. We can accomodate all of your shrimp needs no matter how large the order. Call to place your order. 843-757-4010 or stop by the store. Fresh shrimp is available now!
BLUFFTON FAMILY SEAFOOD HOUSE RECIEVES CERTIFICATE OF EXCELLENCE FROM TRIPADVISOR!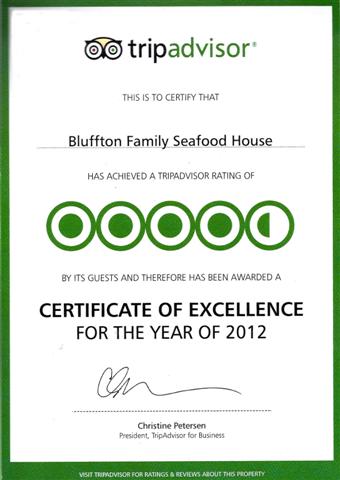 The Toomer Family
is proud to announce the opening of the
BLUFFTON OYSTER CO.'s
FAMILY SEAFOOD HOUSE
OPEN NOW
On Dr. Mellichamp Drive near Downtown Deli and Mi Tierra
(843) 757-0380
Tuesday – Saturday
11:00A – 9:00P
Lunch and Dinner
A fun Family atmosphere and fresh seafood
Are on the menu in downtown Bluffton!
Bluffton Oyster Company's Family Seafood House is a hit with locals and visitors who seek the freshest seafood from folks who actually catch it.
Stop by and enjoy!
Special
Low Country Boils
"To Go"
We are offering Low Country Boils "to go" at the oyster factory- there is a 10 person minimum and it is $18.00 per person which includes fresh local shrimp, kielbasa sausage, new potatoes and fresh corn. For parties over 50, our price is $15.00 per person.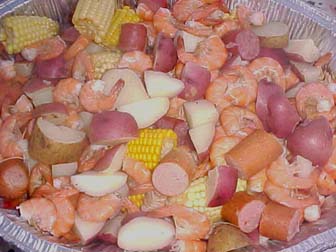 As advertised in the Island Packet.
Call 843-757-4010 to reserve yours today!
LET US CATER YOUR NEXT EVENT!
Specializing in Oyster Roasts, Low-Country Boil, and Barbeques. We can customize your menu to serve any number of people. For more than a dozen years, we have served large and small groups at parties and informal gatherings throughout the lowcountry.
IN THE NEWS
Island Packet, February 2, 2013 – Bluffton Regional Business Council Member of the Year: The Bluffton Oyster Company
The Bluffton Oyster Company is one of Bluffton's longstanding family businesses. Owners Tina and Larry Toomers' family history is connected to the shores of the May River. Theirs is a legacy of fishing in the local waters that goes back well over 100 years.
The Bluffton Oyster Co. has occupied its site longer than most other oyster-shucking houses in the state. Their restaurant, Bluffton Oyster Co.'s Family Seafood House, specializes in fresh, local seafood. They also work closely with regulatory agencies on water quality and return thousands of oyster shells to the river each year to seed future harvesting.
"The Toomers are a very thick thread in the fabric of our community," said Bluffton Mayor Lisa Sulka. "They are givers who give back to our community in every way." READ MORE>>
Island Packet, October 12, 2012 – Toomer's celebrate a century as a seafood staple READ MORE>>
WHAT FOLKS HAVE TO SAY…
"I am getting calls from Band Directors telling me how much they enjoyed our Georgia Educator's dinner on January 30th. The food is fantastic and the service is outstanding. Our employees fight over the barbecue! Since everyone can't live on the coast, the oyster roast and low country boil are an absolute favorite!" Harriet Simowitz, Portman's Music
"The barbecue was the best I have had. The red rice was magnificient, cole slaw fresh and oysters outstanding! A number of our members thought it was the best outing the Club has had in recent years!" John Taggart, Lowcountry Oyster and Motorcar Driving Society
"You did an amazing job for us. Our friends raved over the wonderful food. Oysters, Lowcountry Boil and barbecue are three of my favorite things. You and your folks added so much to the positive atmosphere of the celebration!" Hank and Sue Noble


South Carolina's 10 Best Seafood Spots
September, 2012 issue
Bluffton Family Seafood House
Bluffton
Larry and Tina Toomer figured they wouldn't have to go far to get fresh fish and oysters—the couple also runs the Bluffton Oyster Company—so they opened this full-service restaurant in 2010. The dishes are unpretentious, but because the crabs, mussels, clams, and shrimp come mainly from the nearby May River, they need little in the way of adornment.
Order: Share a bucket of steamed oysters ($20), then dive into a basket of fried shrimp ($14) with a side of stewed tomatoes and rice. 27 Dr. Mellichamp